When Lowe Alpine launched its new range of Altus climbing packs in the Austrian Tirol region of the Alps, it arguably missed a trick. The packs – tested here – are pretty much ideal for hut-to-hut mountain trekking as is the Tirol region, but while we were based at the scenic Erfurter Hut  perched high above the Achensee, we mostly used it as a fixed base for exploring the local network of via ferratas and high mountain footpaths.
Not that there's anything wrong with that. The hut itself is a lift-accessed cross between a high altitude restaurant/bar and a posh bunkhouse, and a decidedly pleasant place to spend an evening with fellow mountain goers, along with the odd beer and good food. The area around the lift access hut is beautiful too. For the adventurous, there's a via ferrata tour taking in all five of the surrounding main peaks (https://www.achensee.com/en/activities/an-active-summer/climbing/via-ferrata/) while for walkers, there's plenty of stunning, hands-free hiking around and over the peaks of the Rofan. (https://www.achensee.com/en/activities/an-active-summer/hiking/). There's everything from exposed goat tracks perched above sheer drops to wider, groomed trails that look up at the steeper peaks rather than crossing them.
It's a beautiful place in it own right, but it's also part of the amazing Adler Weg – or Eagle's Way – a 320km, 24-stage walk that crosses the entire Tirol region. There are three stages in the Achensee region, with one of the overnight stops being the Erfurter Hut where we stayed (https://www.achensee.com/en/activities/an-active-summer/hiking/eagle-walk-trail/).
My firsthand experience of Austrian hut-to-hutting took place further east a couple of years ago on the Eagle Walk 2.0 in East Tirol, a separate second Adlerweg that traverses some 90km or so of the region's mountains in ten stages with each modest day's walk starting and finishing at a mountain hut. The enjoyment of hut-to-hut trekking isn't just the breathtaking mountain scenery – Adlerweg 2.0 has stunning views of the 3798m Grossglockener for example – it is, and this might be a shock to old school Brits, the sheer luxurious convenience of it all.
The huts range from venerable old school timbered buildings with a seasonal staff of one or two people serving simple meals and cold beer, through to the ultra-modern Stüdlhütte, the jump-off point for ascents of the Grossglockener, with more than 120 bed spaces for its mix of mountaineers and trekkers.
The alpine scenery of the Home Tauern range is stunning, with a mix of rocky ridges, rolling meadows, early season snow and peaks near and far, but the joy of using huts is that not only do you tend to stay high day on day, but all you need carry is basic walking kit, plus a few hut essentials like a sleeping bag and washkit. The climbs, and yes there are climbs, feel easier, the teetering narrow bits a little less precarious. Mostly, though, it's about the sheer joy of finishing a not particularly long day with a cold beer, a hot shower, a hot meal and mellow chat both with your trekking mates and other hut users from around the world, followed by a comfortable night in a warm bunkbed. Sure, it's not very, well, British, but that's part of the appeal.
Top mental snapshots from our four-day hike with Visit Tirol included…
Basking on the terrace bar of the Sudetendeutsche Hütte with a well-earned wheat beer after a long, hot slog up from Martrei in the valley. Proper Sound of Music stuff, though without the Edelweiss.
Next day strung out across early season, late snowfields feeling like Himalayan explorers silhouetted again the sun and crossing gurgling, spring-flavoured streams on small plank bridges. Mad views of valleys, peaks and vultures. Oh, and chocolate box views back to the hut perched above its very own miniature alpine lake.
Dropping down into green, verdant valleys past gushing waterfalls and through chest-high vegetation to the next valley hut perched precariously on the border between nature and tourism for yes, more beers, meandering cows.
And then the long, meandering slog up the wide valley below the Grossglockener with stupendous views punctuated by precarious moments of late snow drift crossing concentration as the path clung to the valley sides as it neared the hut.
And that Stüdlhütte hut. Like something from a James Bond movie. Half refuge, half Arctic Roll, a modern world away from the wooden traditional setting of our first night.
Brilliant. All this and not a Brit to be seen. For some reason, the Austrian Tirol seems to have been forgotten by UK walkers who happily flock to the French, Swiss and Italian Alps. Why? It's a little trickier to reach, but you can happily fly into Innsbruck in the midst of the mountains. In the end, you have to think it's historical habit as much as anything.
Which is shame, because the Tirol and it's hut-to-hut trekking really is something quite special. Thoroughly recommended.
More information at https://www.tyrol.com/things-to-do/sports/hiking / https://www.tyrol.com/things-to-do/sports/hiking/eagle-walk
---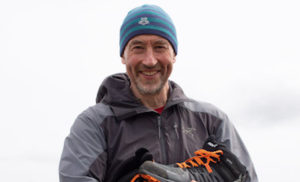 One of the UK's most experienced outdoor gear testers, Peak District-based Jon has developed a curious fascination for the in and outs of the latest gear. Mostly though he just like being in the hills.