So you're working hard in cold conditions and you need something that'll keep you warm, but without leaving you sticky, hot and sweaty and – worst of all – cold and clammy as soon as you stop moving. So what's your best choice?
In this article we run through of all the options from fleece through to the latest, high-tech solutions like Polartec Alpha and Berghaus ThinDown. One basic thought first, though: anything genuinely warm is going to make you hot and sweaty at some point, so it's important not to go too warm with your clothing choice, no matter how well they deal with sweat and moisture.
FLEECE
Polyester fleece is the semi-forgotten player in the outdoor insulation game. It doesn't have the same warmth to weight ratio of down or synthetic down-like fills. It's not wind resistant. And it doesn't wick as fast or dry as quickly as Alpha. It's not a bad basic choice though and the range of different weights means you can tailor warmth levels to suit your needs – if you run hot, something like a 100-weight fleece or Polartec's stretchy Power Stretch will probably be about right under a shell until it gets really cold.

Trump card: Brilliant for the pub and caff as well as on the hill.
CONVENTIONAL DOWN OR SYNTHETIC DOWN
You can't beat down for packable, warmth to weight value and some of the latest synthetics like the PlumaFill used by Patagonia in its new Micro Puff range are starting to run it close, but for most of us, they're a poor choice for active use. To keep down or synthetic fills happily in place, brands use down-proof fabrics, one layer on the outside, one on the inside. Essentially you're trying to lose heat and water vapour through two layers of windproof fabric with an insulation-stuffed air gap. On the plus side, you get wind-proofing thrown in for free, but you're best off saving conventional puffy jackets for stops and low output activity on really cold days. Down versions are best kept for dry, cold conditions.

Trump card: Best for static use when you need to stay warm, but aren't chucking out warm vapour clouds.
'ACTIVE' FILLS'
In the last few years, a few variants on synthetic – and now down – fills have appeared which are designed to be used on the move. It's not so much that the insulation is able to wick or breathe better than 'normal' synthetic fills, more that it's been reformulated so it can be sandwiched between layers of fabric which are far more air permeable. Examples include the Patagonia Nano Puff range, Black Diamond's First Light and the Alpkit Katabatic. The good news is that they do breathe better than fills housed in windproof fabrics, the bad news is that they're still not particularly good at wicking and, the more air permeable the fabric, the less wind resistant it is, which means you need to use a shell layer over the top as soon as it gets more than mildly breezy. Subjectively, I'd also say that the more insulation there is, the wider the air gap between the two fabrics and the less breathable the jacket. This might be one of the reasons the down-based Berghaus Aonach AX works so well, its not particularly thick.

Trump card: Works best for folk who don't run too hot and need a fair bit of warmth, but without the full-on sauna experience.
YE OLDE PILE PERTEX COMBINATION

Another forgotten warrior of the active insulation wars, the combination of a shaggy pile liner and a windproof Pertex or similar outer is epitomised by Buffalo's enduring range, though Montane also have the Extreme Smock and Jacket. Apart from looking like a survivor of the 1980s outdoor scene, pile / Pertex has the disadvantage of being extraordinarily warm. Too warm for most people outside of a apocalyptic Scottish winter blizzard even with extensive venting options. Its also windproof. The good news is that even if you sweat buckets, the pile liner deals brilliantly with liquid, basically by not holding it at all – it simply runs out of the bottom of the liner. Finally, the sheer bulk of the system and the liner in particular, means that not only will you be likely quite warm, but you may also find your movement feels quite restricted.
Trump card: Come the final reckoning, pile-Pertex will still be doing its dogged, cockroach-type gig, but we reckon there are better solutions, notably…
POLARTEC ALPHA

I've saved my top choice till last. Polartec's Alpha insulation launched a few years back and has gradually expanded into a family of different weights and configurations. Think of it as a light, loose sort of fleece / pile cross that manages to trap warm air, but wicks and dries super fast and you won't go far wrong. In a way it's like a modern take on the pile-Pertex concept and the version that works best for us as a single garment is Alpha Direct with its exposed, soft fluffy liner and some sort of breathable but wind and water-resistant outer. It's not as outright warm and bulky as pile-Pertex, which is a plus for most of us and possesses an uncanny ability to keep you feeling warm and comfortable even in situations where you expect to be overwhelmed with clamminess.
Trump card: Not the outright warmest option out there, but its ability to deal with excess moisture is extraordinary plus it's decently light for its warmth. Our top pick.
ONE MORE THING…

Regardless of what active insulation choice you make, wearing a high-wicking, fast-drying layer or layers underneath of it will make a huge difference. Cotton tee-shirts are an absolute no, but I'd also steer away from merino wool, which is fine for day-to-day use, but deals badly with lots of sweat and moisture. It doesn't matter how well your outer layers work if the sweat you churn out is trapped in the layer sat closest to your skin.
---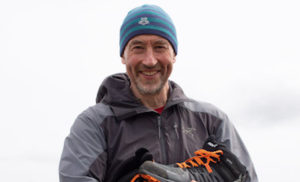 One of the UK's most experienced outdoor gear testers, Peak District-based Jon has developed a curious fascination for the in and outs of the latest gear. Mostly though he just like being in the hills.