Noone has commented on this article yet.
Filed under:
News
,
Product News
,
Alpha Freak Pull-On, Andes Jacket, Men's Alpha Flux Jacket, Microlight Summit Jacket, Muztag DV Jacket, Muztag DV Pants, Nebula Pro Jacket, Neutrino Pro Jacket, Off Width Jeans, rab, winter 2018, Women's Alpha Flash Jacket
---
Jon Doran visits Rab's Derbyshire HQ for an in-depth look at their  autumn/winter 2018 range…
I'm visiting Rab to check out what's new in their range for winter 2018 – hint, far too much for one article, so I'm just going to focus on half a dozen or so highlights – but slap bang in the middle of the brand's palatial new showroom on the fringe of the Peak District, is a black and white illuminated print of founder and original 'Rab', Rab Carrington.

I can't help wondering what the 1980 version of Carrington would make of the sprawling brand that bears his name and its ever-expanding range of not just insulation, but shell clothing, equipment and just how much of it there is. It's all slightly bewildering, but fortunately Rab PR Hetty is there to take me on a guided tour of the new season highlights. Here's what's new and interesting.

Alpha Freak Pull-On – £130 (men's only)
If you're like me, your initial reaction is along the lines of, a new hooded fleece, big deal. The difference is that the Freak, developed with and inspired by hiding-in-plain-sight mountaineer Paul Ramsden, uses a 'naked' version of Polartec's excellent Alpha fabric. In the past, Alpha's mostly been a super fast wicking and drying lining fabric, but here Polartec has done away with the other fabrics, leaving just the fluffy, gridded, insulated bit to work to maximum effect. Along with the Alpha in the main body, you also get zoned gridded fleece areas and a windproof, lined, under-helmet hood. There are thumb-loopy things too and the cut is long and slim and theres a humungous venting zip for rapid cooling. Right now, it's a men-only option, but watch this space, Rab has a history of expanding its innovations into women's kit a year or so after launch. That windproof hood looks like a little touch of genius if you've ever experienced the brutal frustration of an obsolete, non-windproof mid-layer hood worn with a shell. You can thank Paul Ramsden for the inspiration apparently.
The Idea: You put it on at the start of your high mountain outing and it stays on until you get back to the valley, day and night, wicking and drying fast and keeping you comfortable. In other words, you live in it.

Microlight Summit Jacket – £230 (men's and women's versions)
Rab's revamped its popular down Microlight range for this winter generally, but the new Microlight Summit takes it all a stage further. It still uses narrow down chambers and 750 fill power, ethically sourced Nikwax hydrophobic down, but the construction is subtly different. A new Pertex fabric called Quantum Infinity Weave eliminates stitching, glueing or lamination between the compartments housing the down. The tubes are effectively woven into the fabric using an innovative Japanese weaving technique. No stitches, no stitch holes, nothing. The idea is that in the sort of brutal, biting, mountain winds that penetrate conventional stitched seams, the Microlight Summit remains more or less completely windproof, enough to give it a performance edge and stop you needing to pull on a shell for extra protection. Thats the theory anyway – watch out for a full Trek & Mountain review coming soon. There are other differences between this a standard Microlight Alpine jacket too. The Summit is cut slightly longer, has a two-way zip for ease of use with a harness, refined stretch cuffs go over or under gloves and there are visually distinctive angled shoulder baffles and the hood is designed to lie flat when not in use. But the main difference is the fabric. There's a women's version too with all the same features.
The Idea: It does pretty much what the standard Microlight does and has a similar weight – around 450g – but the stitch-free baffles mean more protection in icy cold winds.

Muztag DV Jacket – £300 (men's and women's versions)
The Muztag's been around for a while, but it gets a redesign for this winter and the idea is that it's a strong, light and very breathable climbing-specific waterproof jacket – hardshell if you like – made from eVent DValpine fabric. What makes it a stand-out, says Rab, is that while at around 480g it's decently light, it's also respectably tough and comes with carefully-refined, climbing-friendly features like harness-compatible chest-pockets, a helmet-hood with wired peak, pit-zips – for years event jackets eschewed these, but not any more – and enough space to layer over fleece like the Alpha Freak above. Nice attention to detail as well. The rear of the collar is lined to prevent contamination and subsequent leaking and the inner has a soft feel, so you can wear it comfortable over short sleeves when it's not properly cold. Comes in both men's and women's versions.
The idea: Very breathable, no-frills, tough but light climbing shell. Simplez.

Muztag DV Pants – £250 (men's only)
Waterproof legwear sometimes seems like the poor relation of the outdoor clothing world. People deliberate for hours over waterproof jackets and barely think about trousers, it's a bit like vegetable side-dishes in a posh restaurant. These aim to change that. The Muztag DV Pant uses the same fabric as the matching jacket and weighs about the same at 470g odd, so much lighter than, say, the Latok Bib which weighs a hefty 900g – yes, really. Part of that weight saving is because they're waist pants rather than bibs complete with detachable braces to keep them in place. Strategic bonded-on reinforcement sits at the ankles and where ice-screws are prone to rub. It feels like rubbery Hypalon, but much lighter. Other refinement include a super wide, soft-lined waist-band for added comfort and 3/4 length YKK side-zips with three-pullers, so you can use them for strategic venting on the move. Oh, and thankfully there's also a zipped fly. In other words, more of the light but tough ethos. What makes them different is that unlike most waist-high waterproof shell pants, they have the sort of protection you get from technical bibs, but without the added weight and bulk of the bib section.
The idea: Light-is, but tough and versatile climbing-specific overtrousers to match the jacket.

Neutrino Pro Jacket – £290 (men's and women's versions)
Last but not least on the featured front, there's the Neutrino Pro down jacket, which as Hetty put it, sits right in the middle of Rab's insulated jacket range and is available in both men's and women's versions. It's kind of what I'd call a bread and butter, big mountains down jacket, rather than one of these new-fangled, micro-baffled lightweights. It uses big compartments stuffed with high-lofting, 800 fill-power, ethically sourced, EU, hydrophobic goose down. The fabric is water-resistant Pertex Quantum Pro, which used to be Pertex Endurance and it's just a really nicely engineered, jacket. That means a helmet-friendly hood with adjustment and wired peak. Adjustable everything. Plush-lined hand-pockets and more. The women's version weighs around 530g the men's 600g, which is only around 150g more than a Microlight, but it's significantly, luxuriously warmer.
The idea: Contemporary workhorse down jacket for sitting around watching the sun rise over Everest, the Alps, Andes or Kili. Get balance between warmth and weight/bulk.
And five more Rab winter 2018 stand-outs…

Nebula Pro Jacket – £170 Alongside all the new down range – and theres a lot of it – there's also a new synthetic or two including the Nebula Pro which uses 'down-like' Cirrus 3M featherless insulation in a classic quilted design. Looking at it, you'd assume it was down, but it's damp-damp-friendly synthetic with all the features you'd expect from Rab including a helmet hood and water-resistant Quantum Pro fabric again. Men's and women's versions.

Andes Jacket – £220 If you're in your 40s or older, you'll probably remember the classic Rab Andes down jacket either as an object of desire glimpsed while huddling in some frozen climbing hut clad in a totally inadequate fleece or, erm, pile jacket. Or you might even have owned one. And now it's back, sort of, as a retro-styled tribute piece. Stuffed with 650 fill power down, so it should still be warm and while it weighs just under 1000g, you won't won't want to carry it around much, it should be spot on for winter bouldering or just hanging out looking retro.

Women's Alpha Flash Jacket – £100 This is the new women's version of the existing men's Alpha Flash, a less technical take on the warm, fast-wicking, fast-drying, lightweight Polartec naked Alpha. It gets stretch side-panels to help it hold its shape and a handy chest-pocket for easy access under a shell jacket. High tec alternative to a basic fleece that works better.

Men's Alpha Flux Jacket – £140 It was easy to overlook the original Alpha Flux jacket which mixed an insulation-lined jacket with stretchy, breathable side-panels, but it was a versatile top that worked as a mid or outer layer depending on the conditions, Adding a hood for this winter should make it more versatile and maybe a little less overlooked.

Off-Width Jeans – £60 Very unfairly in men's versions only, the Off Width Jeans are denim jeans but with the added benefit of using a 10.5oz Cone Denim with 1% which will make those super-wide bridging moves even easier. There's also a slightly less featured jean called the Copperhead but that's not new.
More stuff: You can find the entire Rab range including sections for what's new this winter at: www.rab.equipment
---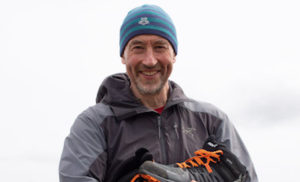 One of the UK's most experienced outdoor gear testers, Peak District-based Jon has developed a curious fascination for the in and outs of the latest gear. Mostly though he just like being in the hills.