Price
£200
Verdict
A super warm, very comfortable, cold-conditions mid-layer jacket that's completely different from conventional down insulation.
Pros and Cons
Decently warm
Surprisingly breathable on the move
Stretchy
Close fit
Snug-fitting hood that just about fits under a helmet
Pleasantly soft fabric feel
Not much wind resistance
A little pricey
A tad weighty
Dries slowly if it gets properly wet
Chest pocket would be handy for rapid stowage under a shell
Noone has commented on this article yet.
Filed under:
Gear reviews
,
Insulated Jackets
,
Aonach AX, Berghaus, insulated jacket, review
---
Berghaus's weird tech results in a down-filled jacket that's designed for use as a midlayer in really cold conditions
You really have to start with the slightly weird technology that's gone into the new Berghaus Aonach AX. For perspective, conventional down jackets are designed to be used mostly when stationary. Two layers of totally windproof, down-proof fabric and a big air-gap between them, which is full of down, means they're not very breathable at all. Walk up a big hill, even when it's very cold, and you'll get sweaty and clammy fast.
To cope with the issue of fabric breathability, Berghaus has used a much more air permeable fabric inside and out. They say it gives 50 times the air flow of normal down-proof fabrics. So that's a start. The problem is, that normal down will just poke through a fabric like this, so enter stage right, ThinDown. This, it turns out, is down in a slightly stretchy sheet form that's held together with a very thin 'melt' of polyester fibres.
The whole thing is based on 750-fillpower duck down (90/10) and is claimed to be '30% warmer than polyester insulation' because, Berghaus boffins say, its 'able to trap more warm air'. Because it's a sheet, it doesn't need to be housed in separate down compartments using baffles and most importantly, it doesn't poke its way out of the sort air-permeable fabrics Berghaus wanted to use. That said, the Aonach also has strategic stitch-lines based on body-mapping research and designed to shed some heat in areas which are warmest when active. I'm guessing it will also help to hold the down sheet in place and look cool and technical too. All this was tested in use and in, er, ice chambers.
Bottom line: the Aonach AX is claimed to be much lighter than fleece, but a lot warmer and also more breathable. To be warmer for its weight than synthetic down-like fills. And way more breathable and thus more comfortable on the move than conventional down.
Using It
I was pretty cynical to begin with. The Aonach AX seemed to be the answer to a problem that didn't really exist, but the more I used it, the more I liked it. First off, it has a really nice, endearingly soft, slightly stretchy feel and the close fit is comfortable and efficient. It's warm too. Not as warm for its weight as a conventional down jacket, but comparable to a really thick, heavy fleece or pile jacket – remember them? – and, I'd say, warmer than the heaviest grade Polartec Alpha. What I really didn't expect was just how comfortable it turned out to be in active use. The first time I hit a steep climb in conditions around freezing point, I was expecting all manner of clammy.  sweaty hell to break loose.
In reality it stayed impressively comfortable. Warm for sure, but not boil-in-the-bag, steaming, stove-top hot. I put it down to the super permeable fabrics and relatively small insulation gap, which seems to allow the passage of damp, warm air quite happily. Better I'd say, than similar synthetic-based alternatives I've used like the Patagonia Nano Air or Black Diamond First Light.
The downside to that, is that it doesn't have a huge amount of wind resistance. It's fine used alone in still to breezy conditions, but when the wind gets up, you need to add a shell layer to stay comfortable. Fortunately the close fit means it sits quite happily under most technical shells and still seems to breathe away quite happily. The stretchiness of the fabrics also means that it feels unrestrictive in use. No straining apparent if you're reaching for a hold or swinging an ice-tool.
One thing: you do really want to keep it dry. The one time I got the Aonach really soaked, it took a good while to dry out again. Then again it's too warm for active use in most wet weather conditions, more of a snow and ice sort of top.
Bells And Whistles
 Cards on the table, I have no real idea if the body-mapped, through-stitched zones make a significant difference. Berghaus says its testing shows they do, but you'd be hard-pressed to say with any certainty just from wearing the jacket. What I did like in the design was the hood, which fits snugly, will just about sneak under a climbing helmet, and is properly warm. Pull it on for quick stops or it temperatures drop, remove when you get warm. No need to carry a hat, though it can get slightly fussy used with a hooded shell over the top. The unobtrusive hand pockets are best suited for round-camp finger warming and stowage. It would have been handy to have a chest-pocket as well that could access easily while wearing a shell and use to keep things like a phone, GPS or just an energy bar warm and dry.
Kinder Surprise
One other bonus is that the fabrics used in the jacket are more than 50% recycled and the garment uses over 90% Bluesign approved materials as part of the Berghaus MADEKIND initiative to 'create high-performance gear that's kinder to the planet'.
The Verdict
Everyone I know who's used the Aonach AX started off skeptical and was gradually won over by its unlikely combination of deep winter warmth, surprising breathability and intangible 'niceness' in use thanks to the soft, stretchy feel and snug fit. The hood is great too. You almost need to forget that it contains down and just think of it as a very warm, reasonably light and very comfortable cold conditions mid-layer that can also be used as an outer when it's relatively still and cold. By cold, I mean it works best in conditions around freezing point and below, which is handy as, despite the face fabric having a water-repellent treatment, it really doesn't like getting very wet. Just as well it works under a shell.
If I had to quibble, I'd say it would be really impressive if it weighed about 100-150g less than it does. And while I think it's warmer outright than Polartec's active Alpha insulation, it doesn't wick or dry quite as well and arguably works in a narrower range of temperatures. Overall though, a super warm, very comfortable, cold-conditions mid-layer jacket that's completely different from conventional down insulation.
---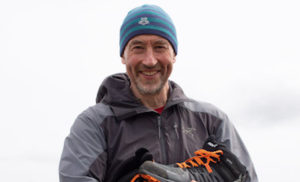 One of the UK's most experienced outdoor gear testers, Peak District-based Jon has developed a curious fascination for the in and outs of the latest gear. Mostly though he just like being in the hills.