On the face of it, crowd-funding websites like Kickstarter and Indiegogo should be an ideal way of creating all sorts of slightly leftfield outdoor kit. You know, the stuff you always thought would be great, but none of the established mainstream outdoor brands think it's worth producing.
Wouldn't it be brilliant to have a lightweight cook-set that doubled as an extreme ice-climbing tool. Or a sleeping bag for your dog that also keeps your feet warm. Or maybe a lightweight carbon-fibre trekking pole that's simultaneously a handy water filtration device. Hint: only one of those is made-up, the other two are real Kickstarter projects. And that's what's both great about Kickstarter and also slightly terrible. It's not that there's anything inherently wrong with your trekking pole doubling as a water purifier, but realistically the market for one is probably quite small. So what's out there, we've had a look…
Stuff that's genuinely innovative
You've probably seen it already, but the HoverGlide pack looks genuinely a bit different and is actually on sale. You really have to watch the video to appreciate what it does, so here it is: https://www.youtube.com/watch?v=to5OKjZsKRs
It uses a cunning military-grade, plastic pack frame that supports the actual pack body using suspension to reduce the forces transmitted by the load carried when moving, either walking or running. The claim is that the technology, developed for use by special forces, reduces impact by 82% by walking and 86% when running. It's the kind of thing that most mainstream pack brands would dismiss as gimmicky and weird, but if you want one, you can place an order on indiegogo right now.
Modular sleeping bag
What else? How about the Kammock Thylacine sleeping bag from back in 2013? Okay, it's a weird name, but the bag, billed as 'the last sleeping bag you'll ever need', is a modular sleeping bag concept that allows you to swap in and out different weights and types of insulated baffles to cope with different temperature and conditions. Going somewhere cold, stick in a bunch of super warm, down insulation. Going mild and wet? Just swap in some damp-friendly, thinner synthetic fills. You get the idea. One sleeping bag, loads of options. Seems like enough people 'got it' that you can now buy the finished product at kammock.com – the name? A recently extinct carnivorous marsupial, aka 'the Tasmanian tiger'. Nice.
We've sort of seen this before…
Finally, check out the Windcatcher sleeping mat concept. It uses a wide-mouthed opening at the top of the pad which utilises the Benouli effect, I think, to inflate the mat with impressive ease. The good news is that Windcatcher is still going strong at https://www.windcatchergear.com But if it all looks familiar, that's probably because sleeping mat giant Therm-a-Rest launched a very similar inflation system on some of its mats, which it calls SpeedValve which works in a very similar, though presumably not identical, way. Interesting…
Multi-functional stuff
Kickstarter has become a magnet for what you might call dual-function gear. The idea is that you save weight and bulk by having one item of kit that does more than one thing. On one level, it's a neat idea. On another, the danger is always that you risk creating something that's not great at either of the things it does and no-one actually wants. Or not. Of course the joy of Kickstarter is that if enough people want it, you can finance its production.
Take Purtrek, 'the world's first combined water purifier and trekking pole' it says here. It's a trekking pole that has a built-in water purifier, so you always have access to clean water as long as you're carrying the pole. It's either lunacy or genius given that you could actually just carry a lightweight water filter instead, but enough people have pledged money that it looks like becoming a reality. https://www.youtube.com/watch?v=g2NJyP94JAo
Packs that are also tents
The multi-functional thing also has an alarming recurring factor to it. For some reason, lots and lots of people like the idea of a backpack that transforms, usually in a slightly clunky, alarming way, into a bivi tent. It's hard producing a pack that carries well in the first place, without it also being a tent. And good lightweight bivis are problematic too. However, that hasn't stopped budding combiners from getting stuck in.
Check out the Freestyle BivyPack – 'the backpack that turns into a tent' – is it genius? Or lunacy? Who knows, but it looks likely to exist at some point soon. And it does just what you'd imagine with the lightweight bivi kind of folding out of the pack. Is there a huge advantage over a separate pack and bivi combo? Back in 2015, though it was never funded, the MOEDAL + TOTEM project also combined a tent and a backpack, albeit a heavier one. If you think that's odd, check out the ADIFF Tent Jacket, which – yes, you guessed it – really is a jacket that also converts into a tent. Because everyone needs a tent that also a handy jacket, erm, right. It's real enough though: https://www.youtube.com/watch?v=iW0XkDV3WWM
To be fair, it's not that far a leap away from Hilleberg's legendary Bivanorak which really is a wearable bivi-bag / anorak / sleeping bag cover that wouldn't look out of place on Kickstarter, even though the Swedish tent specialist has been producing it for years. There's loads more as well, the PowerPot 10 was a lightweight cooking pot that also generated 10 watts of USB connected power during the cooking experience. It was funded and the company behind it still exists, but the product itself doesn't seem to be available any longer.
Stuff that already exists
Last but not least, there are plenty of Kickstarter projects out there that seem to broadly reproduce products that already exist in the mainstream. I'm not saying they're identical, but they're not obviously filling a gap in the market. Here are a few of those. Take the BioLite HeadLamp which is a super neat looking headtorch with what's claimed to be an unprecedented comfortable fit thanks to a cool '3D SlimFit' construction. It's USB rechargeable and weighs under 70 grammes plus the interesting headband means the actual light unit sits flat against the forehead. Light output is a handy 350 lumens. It looks like a very neat headtorch, but there are dozens of very neat alternatives out there already from the likes of Petzl and Black Diamond. A nice light in other words, but arguably not ground breakingly different.
In the same broad category, I'd stick stuff like the Velnox Tarsier – a cancelled, chest-mounted 'headtorch alternative', which basically replicates a readily available Decathlon running torch. The Meridian Line Denim adventure jeans, which are yet another pair of stretch denim kecks like all the other stretch denim jeans being furtively produced by outdoor brands: https://www.youtube.com/watch?v=vdJTbr_iL1c
And there's the Bobcat Trail Quilt which is an, erm, trail quilt in down or synthetic form. And the Splitter titanium multi-utensil, which mostly seems to be a very long-handled spork. And any number of tree tent designs, for some reason tree-tent enthusiasts and hammock folk love Kickstarter. Arguably the best known of these, the UK's Tentsile has used Kickstarter , but there are plenty of others like the Flying Tent which seems to do much the same thing or Levitat – The Revolutionary Hammock and Tree Tent, it says here.
More? Here's one I don't really get. The Baubax 200 Travel Jacket with 25 functions. A sort of cross between a jacket and a multi-tool of all things. It's multi-functionality, gadget-obsession gone made including stuff like its own integrated sleep mask, pen, bottle-opener, whistle and more. Who wouldn't want a jacket including its own footrest eh?
One Last Fave
The joy of it is that you can find more and more of this stuff. A lot of it failed to get funding for fairly obvious reasons, but some – that jacket for example – was a resounding success and the splendour of Kickstarter is that if your idea resonates, it can attract the funding to make you made concept a reality. Maybe…
Oddly, my favourite is the super Barker Dog Sleeping Bag – it's not the only canine sleeping bag on Kickstarter, but it has its very own, slightly mad, but oddly logical USP. The Barker zips to the side of your own sleeping bag or even between two compatible zipped-together bags. This has a benefit too: it'll keep your feet warm. Plus a cinchable collar stops fido from escaping and running around your tent overnight. There's even a two-dog version for folk with two dogs. It's slightly mad, but also genius. Sort of. https://vimeo.com/91090666
The end
I suspect we've only just scratched the surface of outdoors Kickstarter projects. I've ignored the numerous film start-ups, the dozens of tents with reflective outer surfaces to solve the problems of hot weather camping and the numerous hammocks. I also side-stepped the doomed Stake Saver which fits over the end of tent pegs to reduce the likelihood of them bending when being smacked into the ground – surely a bend-resistant tent peg would be more use, but no-one's designed one of those on Kickstarter anyway. Plus I ignored several TNF wannabe outdoor clothing start-ups, laudable though their aims are. But while I didn't really find much I'd ever actually want to buy – though I like the look of the BioLite HeadLight for sure,  that didn't stop me wondering at some of the out of the box thinking and the enthusiasm behind it all.
And that's what it's all about really. Kickstarter and similar sites, mean that if your idea has real appeal, you can potentially make it happen. The flipside of course, is that if no-one else gets it, it emphatically won't. My suggestion: if you're bored, take a meander through the site and marvel at some of the weird and wonderful ideas. Search for 'outdoor', 'tent', 'pack' or whatever and see what comes up. Enjoy!
---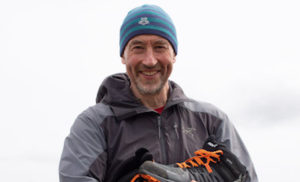 One of the UK's most experienced outdoor gear testers, Peak District-based Jon has developed a curious fascination for the in and outs of the latest gear. Mostly though he just like being in the hills.