This year's must have is a jacket that looks and feels like down, with baffled construction, but is actually filled with a 100% bird-friendly synthetic that's designed to mimic the way down works.
So what's it all about? I'm aware of at least five brands using a fill that broadly works like a synthetic version of down, but why? First, down is the best insulation option when it comes to warmth to weight ratios, so if you can develop a synthetic that works in the same way with similar fill power – a measure of how much fill it takes to occupy a set volume – what you should end up with is down-like performance, but… with much improved tolerance of damp conditions when untreated down tends to lose performance, though not by as much as some would have you believe. In particular, synthetics tend to keep more loft when damp and don't need special laundering and drying techniques.
Next, down-like synthetics can be 'blown' into down-type baffled compartments, unlike conventional synthetics which come in sheets or 'batts', which – in turn – means you can produce synthetic-filled jackets that have that cool, puffy, down look to them. Finally, down production has been fraught with questions about animal cruelty, using synthetic fill may raise questions about general sustainability, but vegans and others can rest assured that no birds have died to fill their jackets. Not only that, down prices are rocketing, so synthetic fills are potentially a more affordable solution.
So what's out there and how well does it work?
Patagonia – PlumaFill Insulation – 850 fill power
https://www.youtube.com/watch?v=k6Qeamn-k9E
https://www.youtube.com/watch?v=7fTeUnsEHno&t=22s
New for this winter, Patagonia's PlumaFill insulation is claimed to offer a warmth-to-weight ratio that's better than anyone else's current offering and equivalent to top-end down at somewhere between 850 and 900 fill power. It's not constructed like down, instead it's a continuous filament synthetic that's held in place with strategic quilting and, unlike down or down-like insulations, is claimed not to clump over time.
Patagonia claims its Micro Puff Hoody has the 'best warmth to weight' of any jacket they've ever built, down or synthetic, which is helped along by the use of ultra-light Pertex Quantum fabric. Unfortunately the £250 price-tag reflects the cost of ten years worth of development and makes it more expensive than many down alternatives and many reviewers feel the jacket is let down by a poor, overly loose, cut.
Marmot – 3M Thinsulate™ Recycled Featherless Insulation – 700 fill power
https://www.youtube.com/watch?v=fEBuzqC_52w
The 3M Thinsulate Featherless insulation dates back to 2014 when the initial version launched. It was initially rated at 600 fill power and claimed twice the loft of down when wet. The latest version used by Marmot in its Featherless range has a claimed fill power of 700 and has 75% recycled content.
We've used the top-of-the-range Avant Featherless Hoody which also features woven baffle construction, which eliminates heat-seeping stitch-lines and it's the most down-like and effective jacket of this type we've tried with decent warmth and excellent resistance to super strong, biting winds. It could be slightly lighter, but overall, it's a cracking alternative to a down jacket.
Haglöfs – QuadFusion Mimic – 700 fill power
https://www.youtube.com/watch?v=_xYqF1uaomw
Another down alternative that's been around for a few years now, QuadFusion Mimic – so-called because it's designed to mimic down performance – uses ball-shaped synthetic fill which can be injected or blown into baffles like down. The balls, made from a synthetic spiral fibre, not only trap warm air within them, but also in the gaps between them. The one thing we noticed using Mimic, is that it seems to hold water more than other down-like synthetics, but works well if you actively wring it out. Our pick would be the Essens Mimic Hooded Jacket not the warmest option out there, but not bad.
Incidentally, we suspect that the ball-like nature of the insulation may mean it's best used in lower volume down compartments rather than big ones where it may move around more, hence there isn't a warmer Mimic jacket around. Plus while initially Haglöfs suggested a 700 fill power figure, that estimate is no longer featured on their website.
Montane – PrimaLoft ThermoPlume – 550 fill power
https://www.youtube.com/watch?v=KFNcfxSBf9A
https://www.youtube.com/watch?v=Dq9MRezSt0c
Montane was the first brand to use PrimaLoft's ThermoPlume insulation back in 2017. It consists of  quote: 'a blend of water-resistant PrimaLoft® fibres in the form of small, silky plumes' which is designed to 'replicate the lightweight warmth, softness and compressibility of natural goose down'. As per usual, it retains PrimaLoft's water resistance, but can be 'blown' into baffled channels like down. With a claimed 550 fill power, it's more mid-range than high-end in warmth to weight ratio terms.
Rab – Cirrus powered by 3M featherless insulation – 600 fill power
Like Marmot, Rab uses a 3M technology, which it brands 'Cirrus', however Rab quotes only 600 fill power equivalence compared to the 700 fill stuff used by Marmot. It is, says Rab, 'made up of water-resistant fibres, which mimic the structure of natural down to create a cloud of warmth'. The brand now has a range of Cirrus-filled insulated clothing, including the Nebula Pro Jacket designed to go forth in conditions where even water-resistant down fears to tread. Or something like that anyway.
The North Face – ThermoBall – 600 fill power
https://www.youtube.com/watch?v=56xPLQ0tV-4
When The North Face launched ThermoBall, which is produced in partnership with PrimaLoft back in 2013, it was the first synthetic insulation which claimed to rival down for warmth to weight ratio with a notional fill power figure of 600. The clue is in the name, ThermoBall consists of tiny balls of synthetic insulation. Unfortunately, the small balls tend to migrate inside the baffles, so ThermoBall jackets have to use quilting to keep them firmly in their place. This in turn means that all those extra stitch lines tend to leak heat, so even though the fill itself may be 600 fill power, the need to use quilt-type construction limits its potential slightly.
So what are the pros and cons of down-like synthetic fills?
If you're being cynical, you'd say the main attraction of these fills is simply that they look like down, but perform better when wet and are easier to care for. They're also less likely to be allergenic and have no animal cruelty issues around them. Generally though, synthetics have struggled to reach the warmth to weight ratios or fill power of top quality down and conventional synthetic fills like PrimaLoft or similar, actually work very well – especially teamed with a water-resistant outer shell – in the sort of wet, cold environments where down can struggle.
Which leaves down-like synthetics as a fill that has down's sexy, puffy looks, but works better in cold damp conditions, though maybe not as well as a less fashionable, but very effective traditional synthetic jacket. Or at least that was the situation until Patagonia's PlumaFill came along. Suddenly – along with Marmot's Featherless fill – there's a synthetic insulation that's comparable to top-end down in terms of warmth to weight ratio, but still has that prized water resistance. It looks an awful lot like having your cake and eating it. It's expensive for sure. And the cut of the brand's Micro Puff kit does apparently need refining, but from where I'm sitting, it's the point where down-like synthetic insulation – and yes, I know it's a continuous filament rather than down-like clusters – starts to make sense.
Watch this space, I reckon there's a fair bit more to come.
---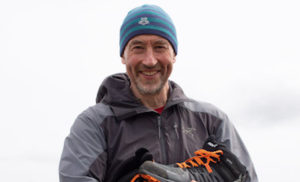 One of the UK's most experienced outdoor gear testers, Peak District-based Jon has developed a curious fascination for the in and outs of the latest gear. Mostly though he just like being in the hills.