Price
Verdict
Decent insulation and wet weather resistance along with a reassuringly sturdy performance is let down a little by a slightly shapeless cut - try before buying if possible. It's also a little heavy for its warmth. For active use, we'd be looking at the Phoenix Flight instead.
Pros and Cons
Sturdy, reassuringly robust feel
Copes well with damp conditions
Decent wind protection when used as outer layer
Reasonable insulation levels
Hood works under climbing helmet
Down-like looks
A little weighty for the warmth provided
Not particularly breathable when working hard
No stuff-sac or stuffable pocket option
Loose fitting hood
Cut is slightly shapeless
Noone has commented on this article yet.
Filed under:
Clothing
,
Gear reviews
,
Insulated Jackets
,
Icarus, Montane, Phoenix, ThermoPlume
---
With a little help from his partner Alison, Jon Doran reviews the Montane Phoenix Jacket
Montane's Phoenix – and its men's variant, the Icarus – looks suspiciously like a classic, lightweight, micro-baffled down jacket. The sort of thing that works as an occasional cool weather midlayer. Or as an outer on its own. Or as a warm layer for knocking about camp or in the pub come evening time.
Except that for all the cosmetics, the fill is actually a 100% synthetic insulation called PrimaLoft ThermoPlume. No feathers, no ducks, no geese died in the making of this jacket, it uses 100% artificial stuffing. The idea behind ThermoPlume is that its structure 'mimics' down, so it can be 'blown' into channels just like down. It has a comparable warmth to weight ratio – in this case a claimed 550 fill power equivalence, which is a decent mid-range sort of level – and it should pack down more efficiently than classic synthetic fills. The big plus, is that unlike untreated down at least, it's engineered to be far happier with wet conditions, keeping more of its ability to loft when damp. It's also easier to wash – no special precautions needed – so arguably a better option for all-round, knock-about performance particularly in classic otter's pocket UK conditions.
SOLID BUILD
If you're thinking the Phoenix looks ultra-lightweight, think again. Our test jacket in size 12 weighs a real life 470g. That feels like a fair bit in the hand, some is probably down to the Pertex Quantum ECO outer fabric, but we suspect a fair chunk of the weight is down to the full drop-liner that means the jacket is pretty much windproof – but adds an additional windproof shell's worth of mass to the package. To be fair, the trade-off is that it feels reassuringly sturdy and robust. All that aside, it's a neat-looking thing. The main body has classic, narrow micro-baffled channels, but the sides of the trunk and insides of the sleeves use an even narrower baffle construction to reduce bulk in that area. You also get hand-pockets, elasticated, Lycra-bound cuffs, hem and hood – no wired peak or owt – and a full-length zip. Finally the chin area has a microfleece lining for added comfort. Simple, but effective. It looks pretty cool too in, erm, Saskatoon Berry. Saskatoon is in Canada and the berries, which really exist, are a bit like bueberries, says Google.
FIT AND FUNCTION
Montane describes the Phoenix's fit as 'Athletic Mountain'. Our tester didn't get along terribly well with the cut, with slightly more room than wanted in some places, however with such a wide range of body types around it's absolutely imperative to actually try on the jacket itself before buying. Fit and function aren't completely divorced, of course – a close, but not tight fit means insulation works more efficiently and our tester actually felt the loose area around the biceps as a slight cold-spot in use. Generally though the jacket's reasonably warm and effectively windproof with it. The downside of that is that it's not particularly breathable – there are three layers of near windproof fabric between you and the outside world – so it works best either at a standstill or for low intensity use on the move. Push on and it gets warm and humid pretty quickly.
Where it does score bonus points is for water resistance. It shrugs off light to medium showers, retains loft even when damp and dries reasonably quickly. That makes is more UK-friendly than natural down alternatives. Its not waterproof, but if it does get a little wet, it's not a big deal. The non-adjustable hood was a little on the loose side and tended to catch the wind, but fitted under a climbing helmet, which held it in place and allowed it to actually work better. Our tester also found the chin area slightly uncomfortable agains the point of her chin despite the micro-fleece chin-guard. Hand-pockets sat clear of a pack-belt and there's a handy internal chest pocket – the men's Icarus gets an external one instead.
VERDICT
As a knock-about, medium-warm, UK outdoors all-rounder, the Phoenix is pretty decent. It copes really well with damp conditions – it's not waterproof, but shrugs off light to medium showers – and the ThermoPlume insulation seems happy even when damp. It feels sturdy too, not like some of the ultra-lightweight jackets we've encountered which tend to use fragile-feeling, semi-translucent face fabrics. Where it was less happy was with medium to high intensity use when it felt a little hot and sweaty, though okay if you kept the pace down. If you're after a similar jacket for more intense use, check out the new Women's Phoenix Flight (and men's Icarus Flight) which uses the same insulation, but has stretch fleece panels on the sides of the torso and inner sleeves for better breathability, albeit at the cost of some wind resistance – a bonus from that is potentially a closer fit as well. Weight is approximately the same.
---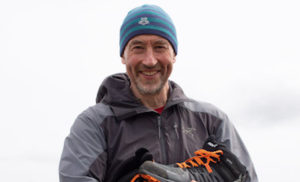 One of the UK's most experienced outdoor gear testers, Peak District-based Jon has developed a curious fascination for the in and outs of the latest gear. Mostly though he just like being in the hills.