I'm sitting here typing badly in a pair of the new for winter, OR BitterBlaze glove – there's also a women's version, the Ouray. It's a specialist ice and mixed climbing glove, that can also double up for skiing, that uses NASA-developed, erm, space age Aerogel insulation technology to tackle the very specific demands of technical winter climbing glovery. And yes, I just invented that word.
If you've climbed, technical water ice, you'll know that gloves that work 'just right' are super hard to come by. They need to be warm enough that your hands don't freeze and lose dexterity. But also dexterous enough that you can, say, place and ice-screw and clip it, then set up a belay, without taking them off. On top of that, they need to give you a direct, non-slippery, confident grip on your ice tools with minimal bulk on your palms and fingers. And part of that is minimal movement within the glove. They also need to cope with the odd melt-water attack. And finally, they need perfect fit with no flappy finger ends or tightness. It's a big ask – a lot of gloves that work perfectly well for general mountaineering are simply too bulky and sloppy for precise technical climbing and ice climbers find themselves using less insulated gloves so they can retain feel and grip.

Hello Aerogel
OR's answer to this is a PrimaLoft technology developed with NASA called Aerogel. Like the name implies it's a malleable, flexible gel that's made up of 98% air. It's not a conventional insulator in the sense of trapping warm air, instead it works as a heat barrier. It's also highly resistant to compression and keeps the same insulation value even when it is under pressure. There are 1.5mm custom-shaped inserts of the stuff in the fingers, palm and thumb of the BitterBlaze. All the points where it'll grip an ice tool or ski-pole in other words. The back of the glove is insulated too with a layer of conventional PrimaLoft Gold synthetic insulation. You also get a waterproof Gore-Tex membrane and state-of-the-art Pittards Oiltac goat leather palms – the rest of the glove is a stretch Nylon soft shell.
First Impressions
Full disclosure: it's about 5˚C and wet outside my Peak District window, so no chance of climbing any ice right now, but I reckon it makes more sense to give you some initial feedback now and top up once winter arrives properly. First, the general fit of the glove for me is excellent. Close but not tight, no finger end-gaps or pressure and a neatly pre-curved palm. Super easy to pull on thanks to generous pull tags and while there are no security cord attachment points, you could probably use the pull-tabs if you're that way inclined. The gloves are low bulk and light and have none of the puffiness you find with some all-round mountain gloves, even on the back of the hand. The low-bulk, non-insulated Velcro-fastened wrist section sits neatly under a jacket cuff.

Gripping Stuff?
All good on the fit side of things then, they feel neat and dexterous and spot-on for basic rope-work, screw-placing and the like. Ice gloves though, live and die by how they work with ice-tools. Conventional insulation, waterproof membranes and slippy leather palms can all introduce confidence-sapping slippage into your grip on your axe handles. One solution is to remove as much slippery insulation fibre as possible from the palm of the glove, but that in turn can leave you with freezing cold palms and fingers. That dilemma is what the Aerogel is designed to eliminate.
So how does it work? First impressions messing about with a pair of BD Vipers are excellent. The Pittards Oiltac leather – it's a polymer gives excellent mechanical grip, both on the rubber gips of the axe and on the anodised metal shaft. Just as importantly, there's minimal movement within the glove when you're gripping the glove, I'd say nothing that's really detectable or significant, which adds up to what feels like a really direct, confident grip. In comparison, a well-regarded, general mountaineering guide-type leather glove gives significantly more movement between glove and grip. Hold the hand of an axe tightly and significant sideways rotational play at the pick end. You can also feel the insulation of the palm compressing under grip, something the BitterBlaze doesn't do.
How Warm?
What I can't tell you is how warm – or not – the glove is. OR gives a notional 'comfort range' of '-26˚ / -9˚C' which seems optimistic given the low bulk of the glove, but then it's hard to generalise given individual physiology, overall body warmth and the impact of humidity on insulation. What I can tell you is that messing about with a stainless steel milk jug straight from the freezer and grasping it hard, the Aerogel inserts seem to work pretty well. No obvious sensation of cold. No squidgy feel. Holding a therapeutic frozen gel-pack back to back with a much bulkier, conventionally-insulated glove with far more obvious protection in the palm, the BitterBlaze was at least as warm and possibly more so. Where insulation does feel sparse is on the sides of the fingers, though when gripping an ice-tool handle, the hands form a plate, so heat loss from that area should be minimised. The pay-off is low bulk around the fingers.

Initial Verdict
So far I'm genuinely really impressed. The BitterBlaze has excellent fit – for me anyway – but more importantly, seems to combine low bulk with decent insulation plus a super direct feel on the handle of an ice tool with no distracting slippage. It's dexterous too, without any flappy excess fabric or finger slop. I suspect it wouldn't be quite warm enough for general, winter, snowy mountain use, when a bulky, more heavily insulated glove makes more sense – think plunging into powder snow – but for technical ice climbing use, initial impressions are that it should be spot on. Think dexterity and directness with medium-level warmth and minimal bulk. They'd also be a nice luxury option on any sort of mixed route where you find yourself pulling on rocky holds.
At a suggested price of £155, it's emphatically not cheap, but if you've ever experienced the confidence-sapping unpleasantness of gloves sliding around on ice tools part-way up a steep pitch, you might just think it a price worth paying. If you do though, fit is vital. Try before buying if you can.
More Information
https://www.outdoorresearch.com/us/en/bitterblaze-aerogel-gloves/p/2680501318005
https://www.youtube.com/watch?v=BL8nfmLr-3k
SPEC
Specialist ice and mixed climbing glove
PrimaLoft Gold 1.5mm Aerogel inserts on fingers and palms
PrimaLoft Gold 133g insulation on back of hand
GORE-TEX XTRA FIT waterproof insert
Pittards goat leather palm with Oiltac
Carabiner clip loop
Pull-on loop
170g per pair medium size
---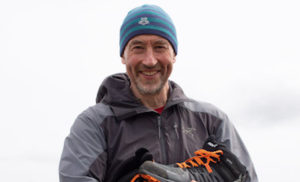 One of the UK's most experienced outdoor gear testers, Peak District-based Jon has developed a curious fascination for the in and outs of the latest gear. Mostly though he just like being in the hills.