Jon Doran gives the lowdown on the different types of down and synthetic insulation available today…
Should you choose a down or synthetic insulated jacket this winter? It used to be an easy one: down was for cold, dry conditions where pack size and weight mattered and getting it wet was unlikely. It also helped if you had a bulging wallet.
Meanwhile, synthetic fill was heavier, bulkier and mostly cheaper, but worked best in the sort of cold, damp, miserable conditions you find in, well, Scotland mostly. Or maybe New Zealand. The more depressing the climate, the better. Synthetics are easier to look after too, no need to dry them in a giant industrial tumble drier with two live squirrels for company.
But … over the last few years everything has changed. Suddenly the appearance of water-resistant or hydrophobic down promised better performance in wet weather. Then synthetics began to appear that aped the way down worked and, from the outside, appeared in garments that looked distinctly 'downy'.
Then to confuse things further PrimaLoft came up with the idea of mixing hydrophobic down and synthetic fibres in one fill. Add in synthetics designed to be used on the move and Polartec Alpha. which isn't the same thing at all, but sort of is, and now a Berghaus down jacket for active use and it's hard to separate out what's best for what.
So, to help you pick your way through the insulation jungle, here's our run-down on where the different types of insulation work best.
CLASSIC DOWN
Down, with or without a water-resistant treatment, is still the king of light, compact and warm. If you're off to a big, high mountain or low temperature environment and need a warm jacket for hanging about in, down is still the way forward. You simply get more warmth for your weight buck. The higher the fill power number, the more warmth you'll get for your weight buck. The ultimate in down is the 1000 fill power stuff used by Rab for its Zero G jacket and PH Designs  in its K-Series range – check this video for an idea of how it works:
https://www.youtube.com/watch?v=tzaHJUijIaA
Anything with a fill power of 700 or more will be respectably warm for the weight You don't want to get untreated down wet if you can help it, but it will resist more damp than you'd think, particularly if there's lots of it. It's also harder to clean and maintain than synthetics, but will last for years.
Best For: Cold and dry conditions where weight and pack size matter.
WATER-RESISTANT, OR HYDROPHOBIC, DOWN

Down with a permanent water-resistant treatment is still down. The big plus is that if you do get it wet, it will maintain a bit more of its warmth even when soggy – think semi-collapsed rather than the full porridge experience – and, once dried, it'll go mostly back to normal without special techniques.
It's still not quite as good at all that as a synthetic, but it adds a bit more peace of mind if you do get caught out in a cloud burst or fall in a river. Think of it as more of an insurance policy rather than something that means you can use your jacket in the pouring rain and you won't go far wrong. The warmer the jacket, the less you need water-resistant down, because if it's cold enough to use it, you'll be dealing with snow not rain.
Finally, with any down, do some research to make sure it's ethically sourced. The good news is that most, if not all, of the top outdoor brands are trying hard to ensure that their down is sourced from birds that are ethically treated. For an example of this and some background, see the excellent Mountain Equipment Down Codex initiative:
Best For: Still mostly cold and dry conditions, but where there's a higher chance of a soaking
CLASSIC SYNTHETIC FILLS
The best known of these is probably PrimaLoft, but there are plenty of alternatives, like the Arc'teryx own-brand Coreloft or ME's Polarloft. They're slightly overshadowed by the new-fangled 'down-like' synthetics, but at base they still work well in conditions where synthetics have always worked well. Think damp, cold conditions where your insulation almost certainly will get wet at some point and will probably end up being worn over damp under layers – waves at Scotland in winter…
Mostly the fill comes in sheets, which in turn means minimal seams and stitch-lines for added warmth. Synthetic makes great belay jackets, but also good lightweight emergency insulation for year-round use. Synthetics are also super easy to clean, just chuck them in the wash with everything else. Synthetics still work best when dry, but they tend to work better damp than down.
Best For: Cold, damp environments where you know you're going to get wet
DOWN-LIKE SYNTHETIC FILLS
This, if you're a full-on gear geek, is where things start to get interesting. The Holy Grail for outdoor brands is a synthetic fill that works like really high quality down in terms of insulation and pack size, but has the same resilience to wet conditions as classic synthetics. And they seem to be getting there. Stuff like The North Face Thermoball insulation equates to middling down at best, but the latest PlumaFill fill used by Patagonia for its Micro Puff jackets is claimed to work like 750 fill power down and have 'warm-when-wet performance'. Marmot and Rab both use a variant on 3M Thinsulate fill that again works like down and is around a claimed 700 fill power mark equivalent. Montane's take on it all is again, PrimaLoft Thermoplume,
The good side of this is down-like performance with more wet conditions resilience. The downside, at least in the case of Patagonia's offering, is that a 264g Micro Puff Hoodie will still set you back a down-like £250. The elephant in the room? Although brands are shy of admitting it, one of the big advantages of down-like synthetic is that it can be made into garments that look like down and that's both cool and good for the outdoor casual market as well. And with down getting more and more expensive, that's a definite plus for the brands. Right now, no synthetic insulation can match the very best down for warmth to weight ratio, but watch this space, PlumaFill is a big step in that direction.
Best For: looking and working a lot like down, but working like a synthetic in the wet
ACTIVE INSULATION
Traditional down and synthetic insulated garments tend to be pants on the move – normally they get a windproof / down proof outer and a liner that's not dissimilar with a wedge of trapped, non-wicking air trapped in between. As a result, on the move you get hot and sweaty very fast. To try and get round that, brands have developed fills that allow them to use much more air-permeable outers and linings. PrimaLoft Active is the best known example. The garments made from it are a lot less windproof, but are less sweaty than traditional equivalents. Do they work? Sort of, is our take. They're okay for low output use, better than traditional alternatives anyway, but moist air moves slowly across the insulation barrier, so you still get moist eventually. And the downside is that jackets like Patagonia's Nano Puff, Black Diamond's First Light or the Alpkit Katabatic also lack serious wind resistance, so at a standstill, you often need to add a shell to stay comfortable.
A far better option, in our experience, is Polartec's Alpha insulation. In its Alpha Direct form, as used by Rab and Outdoor Research, it's a sort of fluffy lining with shell construct that's like a more sophisticated version of Buffalo and Montane's pile and Pertex combination. It handles moisture brilliantly, keeps you warm, and has the edge over the conventional 'active synthetic' fills of feeling less sweaty when you do stop moving, possibly because there's less humid air trapped in an insulation gap. Right now, we find it hard to see past Alpha if you want an insulated jacket to use on the move.
Best for: using on the move in cold conditions, but Alpha would be our stand-out choice for this.
SO WHAT DOES IT ALL MEAN?
We'd sum it up like this: down is likely to remain the king of light and packable insulation for cold and dry conditions for the foreseeable future. It gets refined – water-resistant down is part of that – but zoned construction and the addition of reflective mesh by Berghaus along with lighter and lighter fabrics means it's still evolving slowly. Where things get really interesting is with synthetics and their progression towards being more and more like down for warmth to weight, but without losing their water resistance. The latest Patagonia fill is the closest yet and who knows what'll appear next.
Watch that space, but don't discount good old traditional synthetic insulation for unrelentingly miserable, damp conditions like Scotland in winter – or summer for that matter. There's a reason why the Mountain Equipment Fitzroy has been in the brand's range for as long as we can remember, it simply works in those conditions.
And something else that simply works for active use in cold and dry and cold and damp climates is Polartec Alpha, the king of modern active insulation and a proper stand-out in its Direct form in particular.
---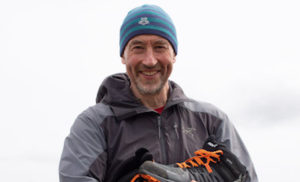 One of the UK's most experienced outdoor gear testers, Peak District-based Jon has developed a curious fascination for the in and outs of the latest gear. Mostly though he just like being in the hills.