You read that right. The new-for-spring 2019 Leki Black Series Micro Vario Carbon trekking poles, MVC for short, cost £194.95 per pair. That's a cool £30 more than the standard version of the pole and well over twice as expensive as a lightweight Leki alloy pole that weighs only slightly more.
So what do you get for your £194.95. First, the poles are undeniably cool, with a name to match. They're made from carbon fibre for a black stealth look. They pack down to a 40cm bundle that sits neatly in a side/wand pocket or inside your pack. And they use Leki's top-of-the-range lightweight components. 
What makes the new poles different from the older version of the Black Series MVC is something called a Core Locking Device (CLD) which is inside the pole and protected from dirt, grit and water. The original featured an external metal clip release to, erm, collapse the poles. The new version though uses a completely invisible system which is activated by simply extending the pole to its full length for release. It's super simple to use, once you've read the manual, and protected from contamination. It also saves a handy 17g or so per pole. Otherwise the poles are pretty much the same as their predecessor, bar a longer lower section.
Full disclosure: I've never been a hardcore pole user. I prefer to rely on good footwork and balance, but trekking poles are brilliant for additional support when tottering around on moraine when you're half dead with fatigue and toting a big expedition pack. They also work well on snow slopes and on exposed snow aretes where a bit of extra support is always welcome.
Super packable
LEKI's website claims a weight of 207g per pole, but our test pair were closer to 218g each – still decently light, though not the lightest poles out there. They fold down into a 40cm long, three-portion package. And once you work out how they assemble, they deploy faster than any other pole I've used. It's a super simple process: you simply grasp the upper pole section and pull it downwards until the main pole locks with a click – it takes mere seconds – and then you adjust the top section to suit your preferences using a Speed Lock 2 lever mechanism. One difference with the new mechanism is that you can't leave the top-section pre-adjusted, which was previously possible, so you need to tweak the pole length every time you deploy them. There is a numbered scale on the pole, but it's very low key and hard to see. We actually preferred the older version when it comes to length adjustment.
Packing them down is even simpler and again takes just seconds per pole. Whereas before you simply pressed a small silver lever in, to release the tension, now you pull the pole out to its full length, there's a click and everything relaxes and can be folded away. It's genius – incredibly quick and easy to use with a touch of James Bond-style gadget slickery (if that's a word). The poles come with a matching stowage bag, ideal if you want to keep them inside your pack. Or you can simply stash them in a side-pocket. If there's a downside, it's that they won't work with a traditional trekking pole loop storage system.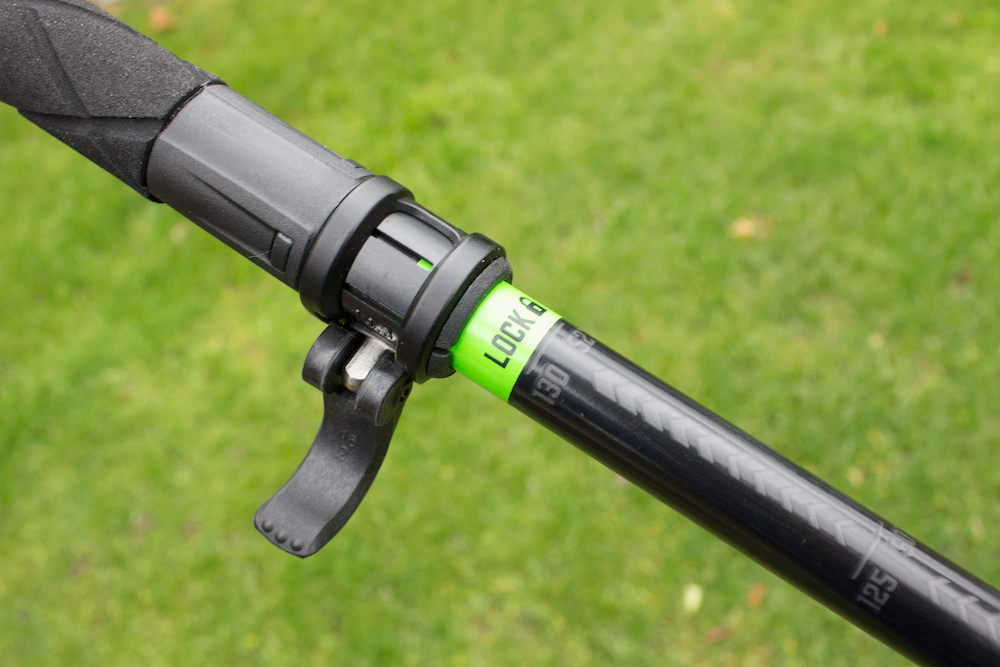 Trail performance
Rapid deployment and stowage are all very well, but pointless if the pole itself doesn't perform. The good news here is that, so far, the Black Series MVC has been flawless. The poles are impressively light, something you'll notice straight away if you're used to heavier poles, but at the same time, reassuringly sturdy. Seems like LEKI has opted to keep a level of robustness rather than chasing after 'lightest in class' accolades. There's a little minor twang if you go out of your way to apply full bodyweight – swinging down from a high step, for example – but in normal use, there's none of the flex you get from some lightweight poles. Note: there's also a new MVC Strong pole aimed at 'larger and harder mountain sports fans' if you want extra reassurance, with a quoted weight of 280g. Possibly a good call if you're prone to really aggressive pole use.
No issues here either with the Aergon Thermo Long foam grip. It's well-shaped, comfortable to hold and has just enough give. The lower portion of the grip gives additional hand-position options and is cross-hatched for extra grip. It's also super easy using the Speed Lock 2 mechanism to adjust pole length quickly on the fly. Shorter for steep climbs, longer for added security when descending. No hint of slippage either, even under bodyweight when descending big steps. It helps that there's just the one lever to worry about too.
Minimalist LEKI Skin straps are super lightweight, thin and fast-drying, but also decently supportive and comfortable considering the minimalist design. There's a bit of a knack to adjusting the strap to fit – you want it looped under your wrist for maximum support, insert hand from below – but it's easy enough to use. Finally, the LEKI tip grips as well as any we've used on both rocky stuff and softer ground and while the basket is on the small side, it worked just fine to stop the pole sinking irrevocably into softer ground.
Verdict
I was going to say that the Black Series MVC is the Rolls Royce of trekking poles, but actually a stealth black Ferrari might be a better analogy. The poles are impressively light, super easy to use and, so far, functionally flawless apart from the minor length adjustment glitch. A more visible scale would help here. They're so quick and easy to assemble and stow away and so compact once you've folded them, that I found myself packing them on days when I'd normally not have bothered and just using them for short sections where they made sense.
Are they worth the asking price? There's no escaping that almost £200 is a hell of a lot of money for a trekking pole, but there's also no denying that if it's possible for a trekking pole to be sexy – the jury's out on that one – this one is. Not just because it looks stealth black, 007 cool, but because it works with a satisfying, high quality slickness and, if the sealed-away Core Locking Device mechanism resists dirt and wear as well as claimed, should also last.
Very expensive, yes. But, also, rather good.
More info at: www.leki.com
Specification
Price: £194.95 (pair)
Weight: 218g (per pole)
100% carbon fibre pole sections – Core Locking Device (CLD) system – Speed Lock 2 Adjustment System – AERGON Thermo Long Grip – Skin Lock Security Strap – Trekking 2.0 Basket – Flex Tip – 110-130cm length adjustment range – 40cm pack size – supplied with stowage bag
GALLERY