Buying boots used to be easy back in the 1970s. You went to an outdoors shop and you chose a pair of walking boots. They would be made of thick, bombproof leather and so stiff you could stand on the tippy tappy pointy toes and not be able to detect the merest hint of a vague suggestion of underfoot flex. Six months or so later, they would have broken your feet in and you could wear them, sort of comfortably, for the next 50 years or so.
In other words, all walking boots were made from leather. Then that changed. In particular, Karrimor invented their seminal lightweight fabric walking boot, the KSB. Suddenly you had a choice. And guess what, you still do. These days, one of the first big decisions you'll make when buying boots is whether they should be made primarily from fabric or from good old traditional leather. So how do you decide?
'Fabric' boots aren't always made from fabric
A lot of the boots we think of as being 'fabric' aren't strictly fabric at all. Quite often, they're actually a mix of fabric panels with reinforced areas made from suede or nubuck or some other sort of leather.  And just to confuse things further, what look like traditional brown leather boots, quite often also incorporate strategic areas of tough synthetic fabrics. Scarpa's excellent R-Evo GTX, for example, features tough, stretch soft shell in strategic areas. Mostly that means the tongue in this case, where the stretchy Sock Fit technology wraps around your foot for excellent comfort and hold. The other place you'll often find fabric panels, even on what look like full leather boots, is around the ankle.  It's an area where extra flex gives instant comfort, while traditional leather can feel stiff and unyielding. At least until they've broken in. In other words, fabric and leather boots have sort of moved closer together. Manufacturers are using fabric strategically in areas where flex and easy movement is advantageous, but leather where harder-wearing properties work better,

GEARHEAD SAYS: Don't get too hung up on whether boots are fabric or leather, some of the most comfortable options out there – assuming they fit your foot shape – are a mix of both.
Fabric boots are more comfortable?
Back in the day when boots with fabric uppers first emerged, it was pretty much no contest because the market was otherwise dominated by traditional, heavy leather boots. Now though, it's not anything like as clear-cut. Yes, fabric boots can be light, nimble and comfortable with faster break-in and better flexibility out of the box.  But, as above, the strategic use of fabric, and particularly stretch soft shell fabrics, in strategic areas mean that comfortable leather boots – the Scarpa R-Evo GTX is a good example – are very comfortable by any standard, if they fit your foot shape.
GEARHEAD SAYS: It's no longer possible to generalise, ironically because along with other technologies, fabric elements in otherwise leather boots have improved comfort out of the box. Most important of all though, is to make sure the boot – fabric or leather – suits your foot shape.
Fabric boots tend/can be/are lighter (maybe…)
Remember what I was saying about it being harder and harder to generalise? Well, I'm going to ignore that for a minute and say that in general, full-on fabric boots tend to be lighter. Or at least they're easier to make lighter, because, guess what, fabric tends to weigh less than leather, even relatively thin leather. So, arguably the lightest walking boot in the world is inov-8's Roclite 320 Mid GTX – or one of its close relatives – which is around 320g per boot and uses a mix of tough mesh-type Nylon fabric with strategic reinforcements made from some sort of tough polymer.
It's not the only reason the boot's so light, but it helps a lot. That doesn't mean leather boots can't be light. What was originally the Brasher Supalite and is now the Berghaus Supalite 2, but mostly the same boot, is still made from 1.6mm Pittards leather. It's thin, light, but decently tough stuff and the boot weighs a claimed 1122g per pair. Unless you have really big feet, in which case they'll weigh more. How much lighter would a similar leather versus a fabric version of the same boot be? It's hard to be exact, but but helpfully, La Sportiva produces two versions of its Trango TRK trekking boot, one mostly fabric, the TRK GTX and one mostly leather, the imaginatively-named TRK Leather GTX. Pick them both up and the fabric version is appreciably lighter, how much? Well, according to the Gearhead digital balance, the leather TRK is 729g per boot in a size 9, while the fabric version is just 610g – so that's a saving of approximately 240g per pair.
It's not quite that simple, the boots have slightly different sole units and the 'Leather' has a fabric tongue and ankle flex zone, but in rough terms, yeah, the fabric version is lighter. Quite a lot lighter. Scarpa? It's lightest walking boot is the Nitro GTX made from, yes, you guessed it, a fabric mesh upper.
GEARHEAD SAYS: All other things being equal, fabric boots tend to be lighter because fabric cloth is lighter than leather. And if ultimate lightness matters to you, then you'll find fabric-based boots are more likely to fit your needs. For context, the lightest Berghaus leather boot, the Supalite took years of intense research to develop, but the same brand's fabric mid, the Explorer Active is both cheaper and lighter.
Fabric boots aren't as durable… usually
I try not to make sweeping generalisations generally – ahem – but in very broad terms, a well constructed, traditional leather boot that's properly looked after and well designed will generally outlast a fabric equivalent. That's because cows – and goats – are hardcore and centuries of tanning leather means that tanneries are very, very good at it. Thick, well produced, well-specced leather boots that's aren't maltreated and appropriately protected against rock damage with protective rands will generally survive for longer. They'll tend to be heavier as well. And that's not to say that well-designed fabric-based boots will be fragile, but often the pay-off for reduced weight is slightly less durability. The same's true of ultra-lightweight leather boots too.
GEARHEAD SAYS: No question, traditional, heavily-built leather walking boots do tend to be more durable, though the pay-off is that they're also usually heavier than a fabric alternative.
They eat animals, don't they?
For some users, there's an ethical aspect to footwear choice. If you're a committed vegan, your choice of footwear is somewhat limited, particularly as many fabric-based boots are reinforced with natural suede leather. So what's out there that doesn't use leather or other animal products? Interestingly, the majority of the footwear made by Arc'teryx uses laminated synthetic outer fabrics and a stretch mesh inner shoe, so something like the Bora GTX mid is, I understand vegan friendly. Ditto the Merrell Capra Mid and the La Sportiva Trango TRK mentioned above plus quite a few other La Sportiva models. Similarly, inov-8 says that 'All of our shoes that do not include leather and/or suede are vegan'.
If you're a strict vegan, I'd suggest you check with the brand before buying as some factories use glues with animal content. Also REI allows you to filter its footwear range by 'Vegan' – https://www.rei.com– which brings up a wide choice of brands and models particularly if you're looking at the lighter end or things or, happen to be a serious mountaineer, more about that next.
GEARHEAD SAYS: The increased use of synthetic fabrics is good news for vegans and vegetarian outdoor folk who want to avoid animal products with a reasonable range of models to choose from.
Mountaineers go fabric!
Finally, the same properties that make boots attractive to lightweight hikers and walkers have also spawned an explosion in mostly synthetic lightweight mountaineering boots, which makes sense as fully-stiffened leather boots have always tended to beat the heavier end of the scales. Scarpa was one of the early adopters with the original Phantom range of mountaineering boots based around an integral gaiter and inner boot and they're now using synthetics in other mountaineering boots like the Charmoz OD and the Ribelle models.
Similarly, La Sportiva now has a line-up of lighter synthetic boots alongside its traditional leather models and the Arc'teryx Acrux AR mountaineering boot is a fully synthetic double boot that matches lightweight single boots for weight and bulk, but offers the advantages of an insulated double boot.
GEARHEAD SAYS: There's more to the lightness of modern mountaineering boots than just the uppers – lightweight sole units, carbon fibre shanks and all-round lightening also help – but if you're after a cutting edge lightweight mountain boot, now is a good time to be looking. As per usual though, heavier leather models will tend to be more outright long-term durable.
So…
It might seem like a bit of a cop-out, but I wouldn't focus too much on what a boot is made from, what matters most is that it suits your personal walking style and preferences and, crucially, that it fits your foot. What you will find, if you want a really light boot, is that you'll tend to find a boots with a higher or 100% synthetic make-up, but you may also find them less durable than a heavier, more traditional, 100% leather-uppered boot, something like the classic Meindl Borneo for example.
Where things get interesting though, is that the use of strategic fabric panels has made boots that are mainly made from leather, significantly more comfortable, particularly straight out of the box. And for most of us, that's arguably what matters most. If you want some really basic generalisations though: fabric boots tend to be lighter, but not always. And leather boots tend to be more durable. But arguably the best boots are now a combination of both.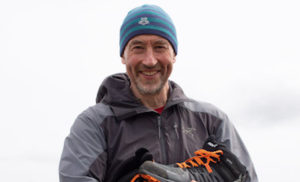 One of the UK's most experienced outdoor gear testers, Peak District-based Jon has developed a curious fascination for the in and outs of the latest gear. Mostly though he just like being in the hills.