Price
Verdict
A cracking blend of underfoot support, ankle cuff comfort, handsome looks and death-defying grip on rocks from the Vibram Megagrip sticky rubber sole compound
Pros and Cons
Overall quality feel
Good underfoot support
Decently slick lacing system
Comfortable and flexible ankle cuff
Excellent grip on rocky surfaces wet or dry
A little heavy compared to some lightweights
Stiff sole can feel a little clumsy
No heel protection could lead to long-term scuffing
Noone has commented on this article yet.
Filed under:
Footwear
,
Gear reviews
,
Trekking Boots
,
Asolo Greenwood GV review
---
Jon Doran makes acquaintance with a "handsome, solid leather, three-season hiking boot with a solid, supportive feel"
Asolo's Greenwood is one of around 10 notional 'three-season hiking boots' we have in for a group test in the next print issue of Trek & Mountain. I say 'notional' because you can argue that the category covers a wide range of boots, which are designed primarily for use below the snowline, but can range from proper lightweights through to boots that'll happily take a crampon for occasional snowy outings..
The Italian designed boot – Asolo are one of the aristocrats of northern Italian outdoor footwear – is made in Romania and falls at the more solid end of the three-season spectrum. If you had to choose one word to describe it, it'd be 'solid'. The thick, 4.2mm Perwanger leather has a handsome look with smooth, nubuck-style aesthetics. The rubber toe protection adds some reassurance for kicking in to scree fields and the odd patch of old snow and the entire upper bar the very topmost section of the ankle cuff is made from leather.
You get a Gore-Tex membrane to keep things dry while underfoot there's a Vibram sole unit. It's here that the Greenwood has a bit of a secret weapon. That outsole, with its distinctive swirly-treaded lug pattern is made from Vibram's semi-sticky Megagrip rubber compound. It's the formula usually seen on technical approach shoes and besides sounding like the name of an obscure German death metal band, adds useful extra grip on rocky surfaces wet or dry. That's the theory anyway and it's a bit of a stand-out feature for a humble walking boot.
What else? Erm, the heel end of the mid-sole has something called 'Anti-Shock' which we know, because it says so on the outside of the heel. Weight is a medium-ish 1420g for a pair of size 43/UK 9 and Asolo says the boot is suitable for hiking and summer through to winter walking.
Fit and feel
Fit is a happy medium and fits my medium-broadish forefoot well but without being loose on the foot. No surprise as my ancient – and still current – Asolo Fugitives, which live in the boot of my car in anticipation of surprise outings, also work well for me. The lacing is reasonably slick and the instep hook locks the lacing out so you can run the forefoot loose and the ankle tight or vice versa depending on preference. Underfoot the boot has a proper solid supportive feel, but Asolo has engineered the ankle with plenty of padding and flex, so you don't feel splinted as with some older leather boots, just comfortably supported with what feels like memory foam doing the business. You know that they're at the more substantial end of the three-season spectrum, no doubt and lightweight aficionados will find them clumpy, but the pay-off is a super solid platform underfoot.
There's a lot of thought and development in the Duo Radiant sole unit and it shows. There are two densities of EVA cushioning underfoot. The upper layer closest to the foot is a denser foam for stability, it says here, while the lower layer is a softer compound for comfort. Don't expect running shoe softness or spring here, but even on hard surfaces, the boots feel firm rather than harsh. There's plenty of underfoot stiffness from the Asoflex 00 MR lasting board, but with enough flex for comfortable walking.
It works reassuringly on rocky trails where you get great support and barely any feel for jaggedness underfoot, which you'll either like or not. It helps that there's enough flex in the ankle area to keep things comfortable and natural at the same time.
Also superb on rocks is the Megagrip rubber outside. It doesn't feel as sensitive as it would on a more flexible approach shoe, but you soon learn to trust its ability to simply stick to most hard surfaces. The downside to the outsole, developed specially by Asolo with Vibram, is that it's markedly less effective on softer ground thanks to relatively closely-spaced  and slightly shallow lugs. Definitely an alpine-style, rocky trail sort of sole unit rather than a grassy Dales-type one. It would also suit folk who like plenty of underfoot structure when toting a big pack and, I reckon, would happily cope with a flexible C1-type crampon – no clips – for occasional snowy winter days.
Gore-Tex waterproof liners are so ubiquitous now that it's easy to simply forget they're there, but it's reassuring knowing that there's a second line of defence if the leather itself leaks out and so far, they've done a good job. No wet feet even with some proper puddle paddling action.
Verdict
The Greenwood combines are reassuring feel of quality and handsome looks with an interesting mix of support and comfort. Underfoot you get proper solidity on rocky ground, but with enough lengthways flex for comfortable walking. But while the lower part of the boot feels properly sturdy, there's enough flex and comfort in the ankle area that overall comfort is pretty good. Underfoot there's just enough cush for all-day comfort, but the Greenwood's ace in the hole is the sticky Vibram Megagrip rubber that clings reassuringly to rocky surfaces wet or dry. It's less good on softer terrain, but keep it in its alpine element and it makes a dependable companion in a faithful hound of a boot sort of way. Not one for lightweight freaks, but a great modern option for traditionalists looking for more comfort.
---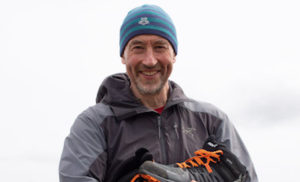 One of the UK's most experienced outdoor gear testers, Peak District-based Jon has developed a curious fascination for the in and outs of the latest gear. Mostly though he just like being in the hills.